The adjuster pad is a multifunctional article that can be used both as a traditional saddle pad and as a saddle pad with shims. The great advantage is that the pockets fixed to the saddle pad ensure that the saddle pad moves as little as possible.
If there are problems with the fit of the saddle, foam wedges can be inserted separately into the pockets provided on the pad to raise the saddle at the appropriate point. The 7mm thick isoprene foams ensure a soft transition.
The correction pad is equipped with a super-soft velour edging, a fashionable piping band, reinforced girth and swirl channel zone as well as adjustable press stud fastenings on the breastplate d-rings.

Includes 4 foam inserts for one insert per pocket.
Please note that the velcro saddle component is included. This product is also available separately.
The Adjuster Streamline Close Contact Jumping Pad is also available as Adjuster Dressage Pad.
THERMAL IMAGERY STUDY
Using the very latest thermal imaging technology we've been able to accurately show the major benefits of this new innovative system.
The study was carried out on three separate test subjects conducted under expert guidance of ACPAT Chartered Veterinary Physiotherapist, Laura Greenwood. Laura's opinion was used to interpret the findings.
Each subject was exercised on separate days, in identical 20 minute schooling sessions which included walk, trot and canter. A current market leading saddle pad was evaluated in the first session, and the 3Spine System in the second. All 3 subjects where consistent in showing results that concluded the above images, clearly showing the benefits the 3Spine system offers.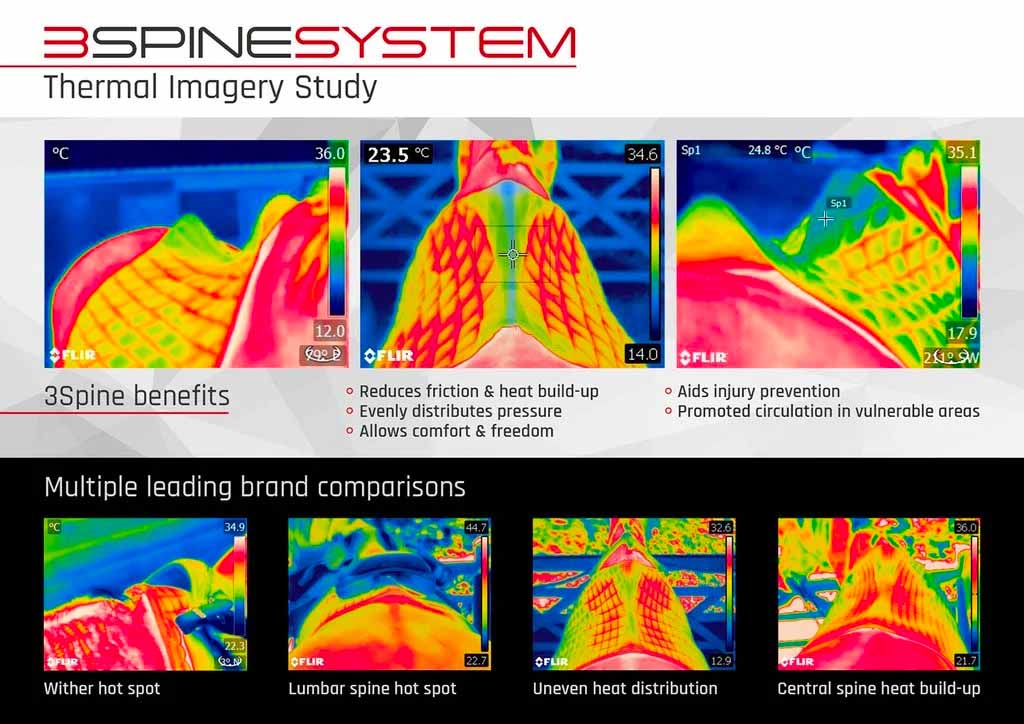 3SPINE BENEFITS
Reduces friction & heat build-up
* Evenly distributes pressure
* Allows comfort & freedom
* Aids injury prevention
* Promotes circulation in vulnerable areas
LEADING BRAND COMPARISONS
All 3 subjects when exercised in current market leading pads showed consistent results as shown in the images above. Subjects showed excessive hot spots over wither, back & lumbar spine. Regardless of hi-wither design and/or pad cut during exercise all results found products to spread coming into contact with the subject along the spine, resulting in potential performance inhibiting friction, heat and pressure.
STUDY FINDINGS
The opinion of ACPAT Chartered Veterinary Physiotherapist, Laura Greenwood, was that in comparison with the alternative pads tested the 3Spine system clearly illustrated improved airflow under the gullet of the saddle, over the wither and lumbar spine. The increased airflow and reduced temperature was beneficial to allow circulation, there were considerable improvements over alternative saddle pads.